RACE COURSE
3.2-MILE SWIM — in-water start, finish on land.
The starting line of the Fat Salmon 3.2-mile race course is on the West side of Lake Washington, at a Seattle Public Park called the Day Street Boat Ramp. It is located essentially underneath the I-90 Bridge.

Swimmers will enter the water in waves of 50-65 people at a time. Waves will be approximately 5 minutes apart. Seeding order is TBD.

The race will be a straight shot North from the I-90 Bridge approximately parallel to the Lake Washington shoreline to Madison Park Beach.
Individuals who cannot swim 3.2 miles in under 2 hours should not participate in this rigorous event. You can read more about TIME GUIDELINES on our SAFETY page.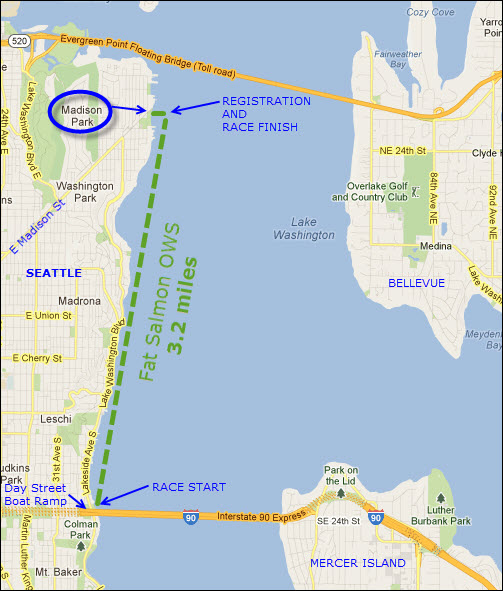 GENERAL INFO
Motor boats will be anchored along the outside of the race course. Buoys will be anchored approximated every 1/2 mile. Racers will be swimming to the left of all Motor Boats as they head north and as close to the buoys as possible. Be aware that the race course passes a marina and many docked boats along the shore. BE AWARE, constantly, for boat traffic. There may not be many boats in the early morning, and Harbor Patrol and the Fat Salmon flotilla will do the best we can to keep boats off the course, but you should ALWAYS look around FREQUENTLY as a safety precaution. Furthermore, if you see another swimmer in distress or one of the official boats, kayaks or lifeguards enters the race course and attempts to flag you down and stop you, you should obey their command, as they may see boat traffic or other problems before you do.
As athletes approach the finish area and are swimming the last one tenth of a mile parallel to the Madison Park Beach, they must swim on the outside of the wood pilings and floating diving board dock. Then after passing the dock, turn left and angle back towards the finish line on shore.
The finish line is just up the steps, on the grass, on the North side of Madison Park Beach.
DRIVING DIRECTIONS
to Madison Park, please go to our FAQ page